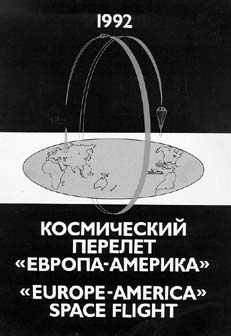 "Europe-America-500" Exhibition in Seattle, Selections from the Kolodzei Collection -120 works. 9 drawings by 3 Siberian artists (Valerii Kolotvin, Dmitrii Kravchuk and Igor Kholodok (pseudonym Algidus), represented in the exhibition, were in the "Resource 500" cargo of the Soyuz launch rocket.
November 15-22, 1992
"From Russian with Love Europe-America 500" was the name of a project organized by the Moscow based Foundation for Social Innovations and a consortium of Russian and American businesses. At midnight, on 16th of November, the 300 kg payload "Resource 500" and Soyuz launch rocket lifted off from Russia. The cargo contained messages from Yeltsin, the Dalai Lama ... and 9 drawings by young Siberian artists, who were represented by the Kolodzei Art Foundation. After five days of successful orbit around the earth the capsule and its unusual cargo splashed down in international waters off the west coast of the United States to be recovered and carried to Seattle by the Russian vessel, Marshal Krylov. It was the first launch of a peaceful satellite from the once top-secret Plesetsk military-rocket center near the city of Arkhangelsk. It was the first space payload to deliberately land so near the United States, just 120 miles off Grays Harbor on the Washington coast. It was the first space payload to carry art objects, souvenirs and messages of peace from one nation to another.